I've realized that there are some masterpieces of literature that not many people know about, so I decided to tell all you all about them. Hopefully you will find at least a couple of them to be good and wholesome reads this season. 8-D
1.) Lark - Sally Watson
Set in seventeenth-century England under Cromwell, Sally Watson's LARK combines historical intrigue with romantic adventure in the high-spirited tale of a young girl who escapes from her uncle's stolid Puritan family.
Thirteen-year-old Lark is forced to stay with her puritan Uncle and his family after her Royalist parents are exiled to France. With an arranged marriage between Lark and her cousin Will-of-God looming in her future, Lark decides to flee to Scotland and stay with her sister who lives there. On the way, she meets young James Trelawney, a Royalist spy who takes her under his wing. At first he hopes to learn where Lark lives and return the curious runaway home, but as the two travel together they build a strong friendship and grow to care for and protect one another. They find themselves in many complicated, insane situations, some incredibly dangerous. As the book mounts to a climax, members of Lark's family discover her whereabouts, James is caught in the middle of a battle, and a plan to rescue the young King Charles is set in motion - a plan both James and Lark may be a part of. -
source.
This is a Must-Read for anyone who wants a soft, gentle romance, an adorable Scott who is seriously fabulous, a spunky, ridiculous girl who's a bit of a brat but definitely a lovable one, and lots of rambunctious adventures.
Ronia the Robber's Daughter - Astrid Lingred
Ronia is the daughter of a robber chief named Matt. They live in a castle in the wilderness. The castle was struck by a bolt of lightning, a bolt which split the ground and divided the castle into two separate buildings, separated by a deep chasm. One half of the chasm is occupied by Ronia's band of Robbers, and the other half is occupied by robbers knows as the Borkas. Animosity grew up between the two robbers, and Ronia was not allowed to visit the opposite half of the castle, or to befriend any of the robbers living there.
One day, however, Ronia meets a boy of her age named Birk. The two quickly becomes friends, but Birk is the son Borka's chief, and therefore such a friendship is forbidden by Ronia's father. When Matt discovers their secret he tries to end the friendship, but Ronia and Birk won't allow it and after a crucial climax between Ronia and her father, the two friends run away together and hide from their families in the wild, untamed forest. They share some incredible adventures and form a strong, lasting bond which no one can break.
This is a good book for anyone wanting a forest-adventure story with an adorable friendship that may or may not grow into something more, and amazing, well-written characters.
From Anna - Joan Little
From Anna*
takes place in the 1930's and revolves around a nine-year old girl and the struggles they face when when they flee Nazi Germany, seeking refuge in Canada. For Anna the change is especially hard. She is a middle child, clumsy, awkward, and to herself, not particularly bright. Once in Canada however, Anna and her family soon discover a crucial predicament: Anna needs glasses. She is practically blind.
Once this discovery is made, Anna's life changes. Slowly she finds her own sense of self-worth and realizes that she has a plenty to give. She is like a blossom, just waiting to bloom.

This book is great for any reader who likes historical fiction, family stories, and strong messages about self-worth, hope, and growth.

*If you read From Anna, you'll also want the sequel Listen for the Singing. That one is about her brother joining the army in WW2, and the impact it has on his family, Anna, and himself.


A Charmed Life - Diana Wynne Jones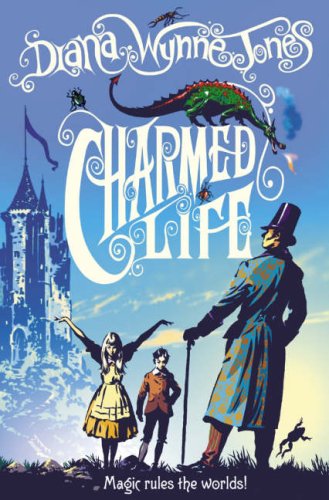 Cat admires and clings to his older sister Gwendolyn. She is all he has, and he clings to her viciously. Gwendolyn is a very promising young witch, capable of difficult and challenging spells, so there seems to be much for Cat to admire. However, trouble springs to life when the two orphans are summoned to live in Chrestomanci Castle. Elated by the invitation to such a high-standing place of magic, Gwendolyn is eager to try her hand in the new waters, but she soon learns that no one in Chrestomanci Castle seems to acknowledge her incredible talents. With ever growing frustration and anger, she comes up with a scheme that could cause problems for all the worlds, including Cat's.

A Must-Read for anyone in need of a clever, ingenious fantasy with quirky characters and solid writing. (Honestly, if you're looking for those things you should read all the Chrestomanci books.)

The Thief - Megan Whalen
I don't know how 'unknown' this book is, but if you haven't heard of it now is the time to be educated.
"I can steal anything!," - so Gen, the thief proudly proclaims. But this claim soon gets him in trouble when the King's Scholar, the Magus, frees him from prison with the sole purpose of enlisting him in a job. It is no ordinary Job either. The Magnus wants Gen to steal an ancient treasure for the king, a treasure which no one has successfully recovered in generations. In fact it's more of a legend than anything else. Yet the Magnus is convinced the treasure is real, and he is determined to find and take it - and he isn't going to give Gen much choice in the matter.
For anyone who wants beautiful, flawless writing, strong characters, a medieval/mytholigical setting and a
freaking
amazing male lead who will leave you wishing there was more of him. (There are three other books in this series - and a fifth and sixth one on the way! - so that is something to keep in mind. As the series goes on there is some incredible character development, character perception, world-building and all out
magnificent
writing and story-telling. )
Bloomability - Claire Calderon
When Dinnie Doone is sent off to an international school in Switzerland, she finds herself uprooted and replanted in a strange, interesting, and beautiful new world. Surrounded by new friends, a new school, and new sights, Dinnie builds herself a home and discovers all the "bloomabilities" that life has to offer.
For anyone wanting a simple, slice-of-life story with interesting characters and a fun, relatable lead girl who will make you feel that you yourself are in Switzerland, studying the Italian language and making new friends.
The Ordinary Princess - M. M. Kaye
When Princess Amelia is born she is given many wonderful, virtuous gifts from the Fairies in the kingdom, and one that is not-so-wonderful from her Fairy god-mother. She is is given the gift of Ordinariness. Unlike her six beautiful sisters, she has brown mousy hair, freckles, and a 'unhealthy' craving for adventure. There aren't many princes who would want such a plain, strange princess. Even her name is ordinary! But when Amy's parents come up with a Knight-and-Dragon scheme to set their daughter up with a husband, Amy runs away. She decides it's time to take fate into her own hands. Since she is so ordinary, she finds it quite easy to get a job as a kitchen maid in a neighboring palace. She finds immense joy in the simplicity of earning her own money, sharing picnics with the woodland creatures, and being free for however short a time, of the demands of royalty. While she enjoys her hard-working freedom, Amy meets a curious man who hangs about the palace. "A Man-of-All-Work," he calls himself. He doesn't have much free time, but he begins to join Amy and her woodland creatures for the Thursday Afternoon picnics. Their friendship quickly grows, for Perry is a funny, venturesome man and even better, he is just as ordinary as she is! Has Amy found her prince-charming after all?
This book is a short, easy read, the kind of book you could finish in a couple hours or less. It is fun, and quirky, and don't let the princess-fleeing-from-marriage dissuade you. The Ordinary Princess is a heart-warming story full of odd traits and vagary that separate it from any other runaway-princess story you've every read or ever will read. It's comical, sweet, and engaging, with just enough romantic flair to be touching and emotional. (Not bad emotional, but that-was-so-cute-I-might-actually-cry emotional.)
I hope this have given you some reading ideas! Cold months always make me think of books and Hot Cocoa, so I thought I'd share some of my favourite books, books for curling up by the Fireplace with.
Peace out y'all!
*swings around cape and leaps off sage*
Bella