I found an awesome tag for Halloween on
this
website, and decided to give it a go! It looked super fun. 8-)
1) What's your favourite horror Halloween movie?
Probably the
Halloween that Almost Wasn't
. It's a cheesy 80's movie and it's like, 20 minutes long at max. I grew up watching it every Halloween so it's very nostalgic and I love it.
2) If you were in a horror movie, how far do you think you would get? (Five minutes, halfway, all the way to the end credits…?)
I WOULDN'T BE IN THE HORROR MOVIE!!!
💀
It depends on the Horror Movie. It is was a "Ghostly/Spiritual" horror with a Haunting I'd think I'd survive to the end cause I'd get the heck out of that house and find a priest. Any other Horror Movie, I assume I'd only last Half-Way. But maybe I'd surprise myself. I may have, in fact, watched enough horror/supernatural shows to get through said movie.
3) Favourite scary video game book?
The Hollow Boy
by Jonathan Stroudt. (Also, the whole
Lockwood and Co
series. They're awesome. They're like Victorian ghost stories, but set in a modern-ish time frame.)
4) Favourite scary story?
The Legend of Sleepy Hallow,
and
Fiddler Play Fast, Play Faster! -
Which is technically a Christmas story.
5) What's one unusual thing that you're afraid of?
Windows without drapes that look out into the dark of night, creepy reflections in dark windows, glass houses, mirrors that lurk in the night shadows of your bedroom. (Glass and darkness don't mix for me. At all)
6) What's your first memory of Halloween?
I think my first memory is my sisters and I dressing up as Our Lady and the Fatima Children and going Trick-Or-Treating. (I was Saint Francisco.) I also have a dim memory of my sister Kat making carmel corm, and my mom hanging up the home-made pumpkin pinnata. I remember making the pinnata from scratch too, for what seemed like
weeks
. But I don't know if those memories are before or after Francisco.
7) What's your favourite Halloween memory(s)?
Curling up with Carmel Corn and watching
The Halloween that Almost Wasn't.
Carving my first pumpkin. When my family spent Halloween at our friend Gavin's house, and he made Halloween AWESOME. (He's a huge Halloween geek. It's adorable.) That was the first time I watched
It's the Great Pumpkin, Charlie Brown!
It was quite fun 8-D.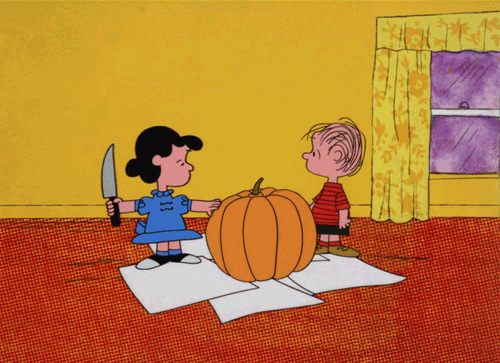 8) Best Halloween costume you've had?
The costume I have this year which is Oz Vessalius and faaaaabulous. I went all out on my costume this year. I even bought a wig!! My second favorite would be the Queen Isabella of Spain costume when I was like, eleven. I felt beautiful in that.
9) Worst Halloween costume you've had?
I literally flung a cape on my shoulders just so I could Trick-Or-Treat one year. I was a "Ranger."
WHICH IS SCARIER:
10) Werewolves or vampires?
11) Ghosts or zombies?
12) Creepy dolls or creepy clowns?
Creepy dolls and clowns
BONUS QUESTIONS (By Bella)
Do you have any Halloween Traditions?
My sister Kat makes Carmel Corn every Halloween. My whole family gets together and watches The Halloween that Almost Wasn't, Witch Hazel, and various other old Disney Halloween cartoons. (Like
Night on Bald Mountain
.) We dress up, some of us more than others. We listen to spooky songs, and more recently, listen to/watch
The Nightmare Before Christmas
. Part of the reason for this new tradition is that Gavin is a big fan of that movie, and since we crashed his house for celebration the last couple years, it comes with the package.
What's your favourite candy/chocolate?
For Chocolates its Reese's Pieces Salted Carmel Chocolate, and Big Five, in that order.
For Candy. Hm. It's probably popsicles, if only for nostalgic value.
Jack-o-laterns, bats, or spiders?
Jack-o-laterns with funny faces.
Do you decorate for Halloween?
I would like to. I wasn't able to this year, but usually I do at least a little decorating. If I ever have my own house I want to do decorating all through October, just for the fun of it.
What is one thing about your Halloween that is different from most people's?
Well, for me, Halloween is the day before All Saint's Day, which in the Catholic Church is a Holy Day, kind of like a Sunday. It's when we celebrate the triumphant in heaven. Actually, the name "Halloween" is a derivative of "All Hallow's Even." Also known as "All Holy's Eve." Many people think Halloween is rooted in paganism. This is false. If you visit
this website
you'll hear the real story. It's a Catholic Holiday!!! This is why when I was a kid, we always dressed up as good things, not bad things. Like Saints, or strong, courageous characters from books and shows that made us feel brave in our faith/life. (Like Martin the Warrior.) For Catholic's, All Saint's Day is a Holy Day on which we remember Christ's triumph over death, and His the salvation He gave to His followers. In fact, November is the Month of the Holy Souls, during which the souls of the faithful who have passed on are remembered and prayed for. It is therefore a Holy season. For us Halloween isn't just about candy. There is no harm in celebration, costumes, and fun, but as Catholics we keep in mind "The Reason for the Season." And that is the Saints and the Holy Souls.
"Eternal Rest Grant unto them, O Lord,
and let perpetual light shine upon them (Psalm 64:2,3.)
Is Halloween a big holiday for you, or just sort of "Meh."
As you saw above, Halloween is a fairly big day in the Catholic Church. November 1st and November 2nd are more important (Being all Saints Day, and All Soul's Day) but Halloween is the Eve of those feasts, so it's fairly big. As a Feast Day and the start of November I like it but as a national Holiday not so much. It's fun, just not my favourite.
Do you guys have any fun Halloween memories?
Boogedy, Boogedy, BOOOOO!!!!!
Swings around cape and leaps off stage*
Bella