I have decided that I quite enjoy
Wanted; Dead or Alive.
I've always liked the Wild West - who doesn't? - and I love Steve Mcqueen. He is so cool! There is a charm about him, you can't help but like him. I'm not a Wantedhard (Wanted fan) or anything, I just really like them.
Though I haven't seen it in a while, I want to say that
Ramona and Beezus
is really, really cute. It has the perfect amount of comedy with just a dash of romance and a bit of wild salt thrown in. The actress they got for Ramona is absolutely brilliant, showing Ramona, not as a naughty girl, but simply as a girl with a bit too much energy and a knack for getting in trouble. Beezus was wonderful too, Selena did a good job acting liked the slightly annoyed older sister. I thought their relationship was super sweet and wholesome. I also loved how simple and real the family was. Its a great family movie, one I'd recommend for everyone
Giving BBC and its Sorrows a rest, my sisters and I decided to watch the final of Leverage (which was brilliant!) and, before Lent, we had a Psych Marathon. You have to be a bit careful with this show, it is usually clean but every now and then you get a bad episode, which is never fun.
I forgot how much fun Shawn and Gus are. They are just so odd and uninhibited. Sean and Gus are me and my sister, Christina. I'm Shawn. He is so me
should I worry about this?
*Everyone I know*
I don't think I should worry about it. I like Shawn a lot so being like him doesn't worry me much. I'll just be a little more mellow is all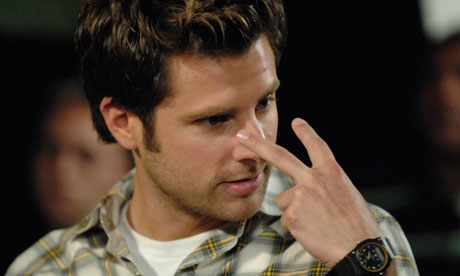 I'm on my way with the Brian Jacques Challenge! Martin the Warrior is AWESOME and I already half-way through. I have read it before but this time I love it all the more. I have quite fallen for Martin - again - and I adore Rose. *Sigh*
I finished my first ever fan video. It is , very short, a test-run type, to the poem from Doctor Who "Demons Run when a good man Goes to War." Because it is Lent I shan't be able to work on the Real music video as much as I'd like, but I hope to have it finished in a couple weeks. If I am feeling brave and adventurous, and i if I get enough requests, I may even *giggles nervously* post it.
My family went out and had a lovely day in the meadow with kites and crispy ice. There is still snow everywhere so we had to stand on frozen snow. In the cold. With buckle shoes and sweaters and a terrible wind.
But
the kites did soar for us and it was grand fun anyway. We came home to meet pizza.
One last thing before I go. I had every intention on letting all tags collect dust. I still do. But I made and exception for this one.
This tag is from
K
at over at World Crafter, so before I give the tag game a long rest I was going to do her interesting and surprisingly fun tag :-) I have to do SIX questions and four random facts about myself.
Questions -
1) Which book would you describe yourself to be? (are you a fantasy, historical fiction, dystopian etc.)
Probably a fantasy. I'm a very fairy-tale like person.
2) What would you be likelier to do? Order a coffer in a British accent or pretend to be deaf when someone talks to you.
My British accent is a bit rubbish so probably I'd play deaf. That's new.
3) A complete stranger walks up to you. Do you (a) react instantly and punch him in the face before he has a chance to introduce himself? (b) step back and wait to see if he's hostile before punching (c) go all coward and run away, screaming like a banchee?
I'd step back and wait to see if he's
hostile
before punching.
4) would you prefer to be sick with the flu or a shockingly bad case of strep throat?
What kind of question is that!!? The flu is terrible but strep throat? If it was a light flue then I'd take the flu. I have never had Strep but I've heard it is horrible. Plus you are ALWAYS swallowing which must be just miserable.
5) If YOU could be a superhero what type would you like to be?
The Doctor type. A sort of, partly crazy, thief like superhero with a lot of spunk, the ability to fly and the ability to create fire. Lots of fire. Like this -
"I say you're gonna die. You sing FIRE FIRE FIRE!!!"
*My apologies if you got that*
Someone yells "OBEY!" What is the first thing you think of?
THE HUMANS WILL OBEY!!!!!
Four Totally Random Facts
1) I laugh at inappropriate times. Someone will say something awful and I'll start laughing because of how they said it. Person "A man drown in his private pool" Me - "Hehehehe"
2) when I was little I tried to persuade my neighbors and friends that I was shy. I swore it up and down. I got over that. Now I'm more like - "Hello world! I'm Bella and I'm Bold."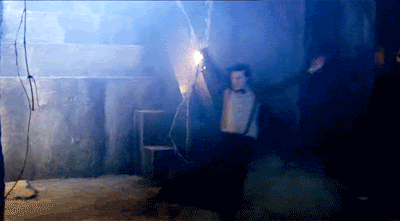 3) I can list all 50 states of America without falter!
4) I have a bad habit of drifting off into acting day-dreams. I'll just suddenly start acting for no reason. I'm odd that way.
Now for my six questions
1) If a friend asked you to go with them to another country for six months to a year, would you?
2)Does the word "Saxon" feel you with fear and dread?
3)Which bedroom do you belong in? A) The Flowery type b) the Simple and interesting type C) or the White-walls-clean-dresser type.
4) Who is your favorite Avenger?
5) You are in Starbucks. A stranger offer to buy your coffee for you. Do you accept?
6) Who was the 21st President of the United States?
Adios to all of youse. Probably no Weird Wednesday this week. I need to make some changes to that day anyway. Sorry of all you.
God Bless!
Bella ~
Oi, what are you.... oh you just want to comment? Then that's fine, please do! I love comments! but, um, I sort of stalk them.